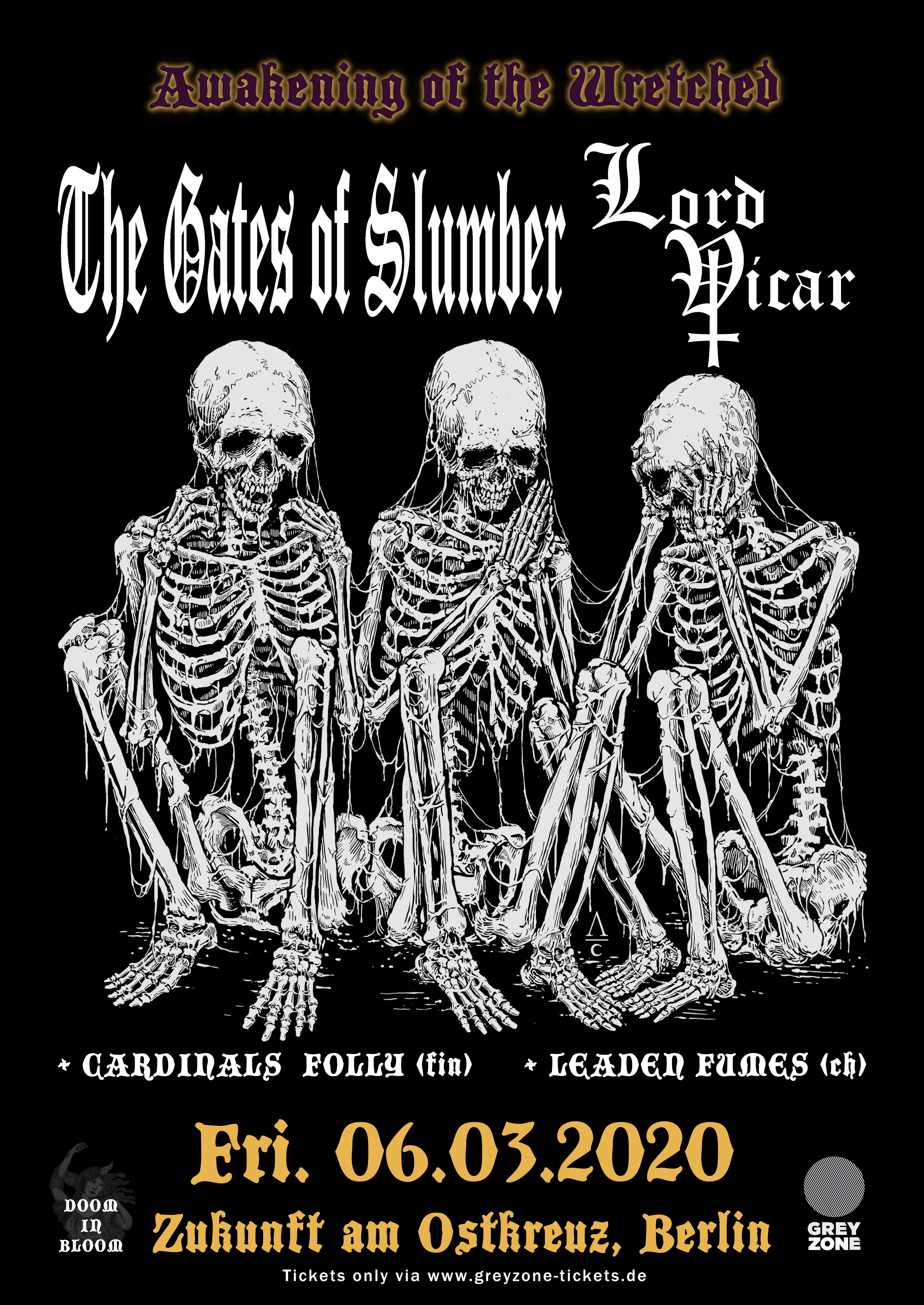 Slumbers reunion, returning to Europe for a few shows in March 2020 with special "Awakening" set, made us to do this very special Traditional Doom evening with four very unique bands. VENGEANCE AND FIRE UPON YOU!
It's their first time in Germany since 2009 and their first time in Berlin for "The Gates of Slumber". The legendary Lord Vicar with one of the most celebrated Trad. Doom albums in 2019, Cardinals Folly and Leaden Fumes with new LPs and the first time in Berlin. What a special evening for all doom(ed) lovers!
DOOM IN BLOOM + GreyZone Concerts & Promotion are stoked to present you this unique Traditional Doom package: LOUD, SLOW and HEAVY.
The Gates of Slumber
Traditional Heavy Doom – Indianapolis (US)
Lord Vicar
Traditional Finnish Doom – Turku (FIN)
Cardinals Folly
Finnish Heavy Doom – Helsinki (FIN)
Leaden Fumes
Tentacled Psych Doom – Basel (CH)
—————————
Friday, 06.03.2020
Theatersaal // Zukunft am Ostkreuz
Doors 20.00 h
Show 20.30 h
Presale only via www.greyzone-tickets.de/produkte/449
Respect and support the slow business.
Artwork by Albert Che (www.albertche.com).
Presented with respect and love by
+
Greyzone Concerts & Promotion
+
Zukunft am Ostkreuz